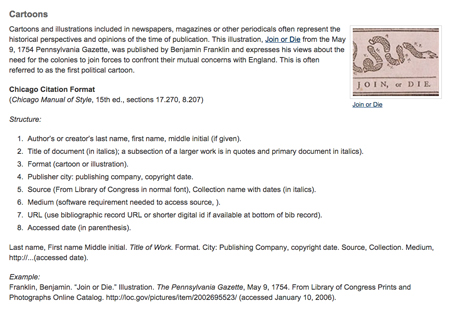 The Library of Congress offers more than 20 million digitized primary sources available to researchers of all ages. When using these sources in learning projects, it is important to provide citations of the primary sources. Citing primary sources requires students to think carefully about the source—who created/published/distributed it, when was it created, and from where was it accessed. Citing sources ensures that full credit is given to the creators and publishers of sources and that others will be able to locate and review the same sources.
There are different styles for citing sources so make sure you are following the appropriate guidelines for your project. The Library provides examples for citing a number of different sources using formal style guidelines commonly followed in history (Chicago) and language arts (MLA).
For more on MLA style, check out the MLA Documentation Guide from University of Wisconsin-Madison Writing Center.
For more on Chicago style, check out the Chicago-Style Quick Citation Guide from Chicago Manual of Style Online.
Turabian is another style, similar to Chicago, but with slight modifications for the needs of student writers. Find out more by reviewing this Turabian Quick Guide. Teachers may also be interested in the How to Teach Turabian document (.pdf).
Related resources