Browsing
TPS-Barat Resources

The TPS-Barat Resources section on the top menu provides access to themed link sets—groups of primary sources, teaching resources and other online Library content—resources aligned to the Chicago Public Schools social science framework and the categories and subcategories of all posts on the TPS-Barat Primary Source Nexus. Click the links to learn more.
CPS Social Science Resources
resources aligned to the Chicago Public Schools Social Science Framework 3.0; teachers outside of CPS will also find great content as well
Primary Source Picks
Teaching & Learning
Tech Tips & Tutorials
Barat Bits & Bytes
includes the Primary Source Nexus News, aggregated from our tweets about the resources on this blog, Library of Congress resources, and examples of teaching with primary sources, and other news and information related to the Barat Education Foundation and TPS-Barat

Featured Sources
showcases spectacular examples of primary sources and provides ideas for guided primary source analysis activities
Using Tags
Each post has a number of content tags associated with it. A tag could be a single word or a phrase. For example, each Today in History post contains date as well as topic tags (e.g., may, may 1, 05 01, architecture, engineering, etc.).
Click any tag to access a list of related posts. You will notice /tag/ listed in the URL; words in multiword tags are separated with one or more hyphens (e.g., http://primarysourcenexus.org/tag/washington-d-c/).
Searching
There is a search box at the far right of the top menu bar. You can use it to search the content of posts and pages published on the TPS-Barat Primary Source Nexus. It is generally good practice to limit your search query to 3-5 words.
The search engine used on this website does not recognize search operators (i.e., quote marks or +) and will ignore certain words such as articles, conjunctions, prepositions, pronouns and question words. Search results are sorted by the following criteria:
full sentence matches in post titles;
all search terms in post titles;
any search terms in post titles;
full sentence matches in post content.
You can search for a particular keyword on any individual page by simultaneously pressing control/command + f and then typing in the word you would like to find (e.g., Douglass).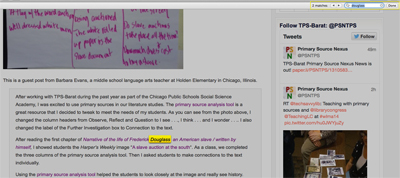 Questions? Suggestions? Contact us.